Field Day 2008 Page!
Cupertino ARES/RACES
updated: August 14, 2008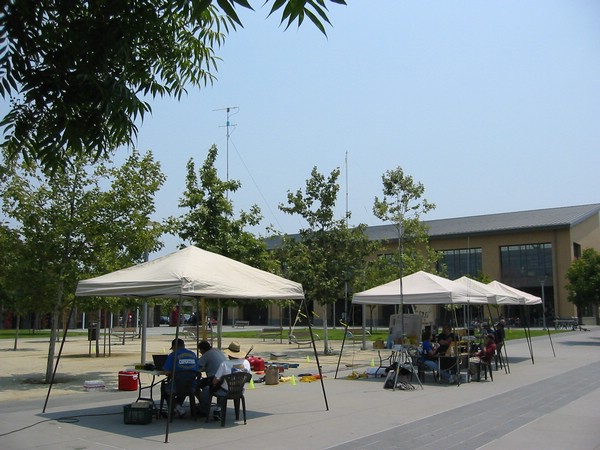 Can you believe it? 2008 marked the 10th ARRL Field Day in which CARES participated. And as with past years, it was also our 10th annual Emergency Field Communications Drill.
We operated as 2F with 2 HF stations, 1 VHF, 1 packet, and Amateur TV (ATV). We were on emergency power the whole time, and even operated on solar power! Our public information booth was very busy with plenty of walk-ups from residents as they came and went into the library. We also had visits from one of our City Council members, a visit from our Cupertino OES Director, the Santa Clara County DEC, and Santa Clara Valley Section Manager.
Even with crummy HF (High Frequency) propagation, the 14 members who participated had a great time with plenty of show-and-tell items to check out.
Here's the write-up for this year's event by Jim KN6PE, EC, Cupertino ARES/RACES.
Here's the story
CUPERTINO, CA. 29 June 2008. The plan was straight-forward enough: with the sun spot cycle at the bottom, we were not counting on much in terms of HF contacts. However, everyone who got on the air had a blast! We were also determined to get ATV up and running AND, actually hit the K6BEN ATV Repeater. We would squeeze every last bonus point out of the contest in hopes for our usual modest score. Lastly, we would do it all in one day.
Kevin K6TD volunteered to take the lead this year, and did a great job organizing this year's event. Planning actually started back in April, and Kevin quickly outlined a strategy that was bound to deliver a lot of fun for the members.
Visible Field Day happenings actually started way before the event. Jim KN6PE and Kevin began laying out the ATV Antenna plans the weekend before Field Day. On the Friday before, Kevin, Allan KD6QPP, and Mark K6FJC loaded up a collection of pop-up tents, tables, chairs, and generators from the Cupertino OES DeAnza Ark. And, Mark K6FJC got help from Darryl KI6LDM to load his Honda 3KW generator into his truck.
All of this activity culminated with the planned start on Field Day morning at 8:30am between the Cupertino City Hall and the Library. This is an excellent location and definitely aligned with our intent to treat Field Day as an Emergency Field Communications Drill (which, by the way, we were activated under CUP-08-15T).
Tents, Tables, Coffee, and Antennas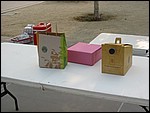 First things first: get a table set up so we have somewhere to put the coffee and donuts. While some would argue that these items were not necessarily critical, they did help keep everyone energized (was it the caffeine or the sugar?) over the course of the morning.
The tents and balance of the tables and chairs were set up, and the antennas were pulled out of truck-beds and trunks.
Our antenna plan was to be simple... 2 HF dipoles supported by a pair of 40 foot telescoping poles, the ATV 1.2GHz and 440Mhz up on a 30-ft tilt-up, and various VHF antennas sitting on tripods for local VHF contacts.
The first dipole was placed in the middle of the common area between City Hall and the Library (are we sure we had permission from the city to do this?!?). The antenna went up without too much of a hitch with both stakes and benches used as guy rope and dipole supports.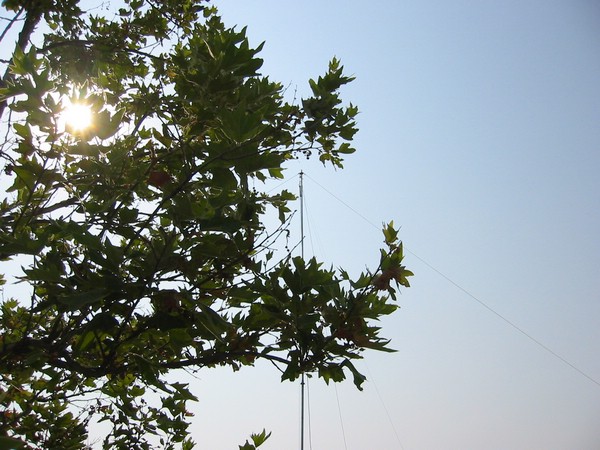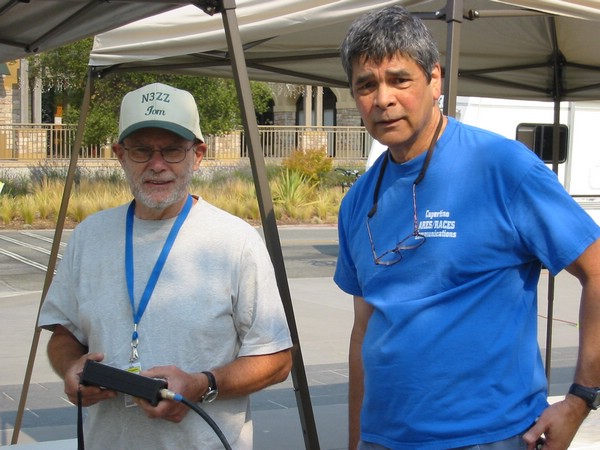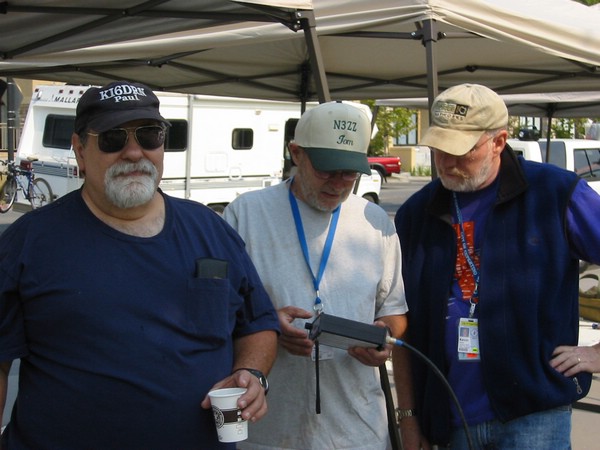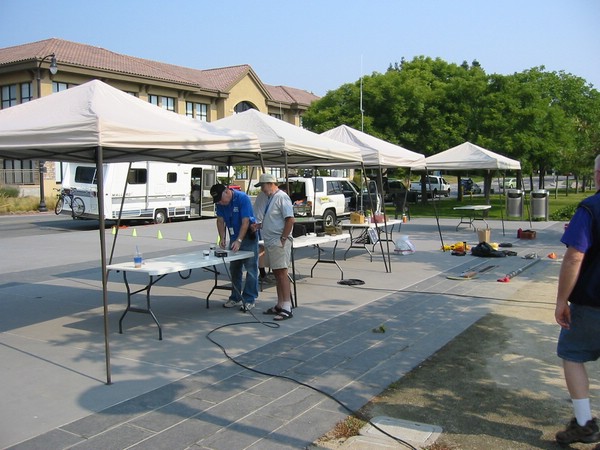 (1) The first antenna up in the morning air. (2) Tom N3ZZ and Allan KD6QPP checking out the SWR. (3) Paul KI6DRN, Tom, and Kevin K6TD offer a second opinion. (4) With the antenna and coax in place, who's got the radio?
The 2nd dipole was situated on the north side of our site between City Hall and the street. This one was a bit more challenging because there were plenty of trees to navigate guy ropes and antennas around.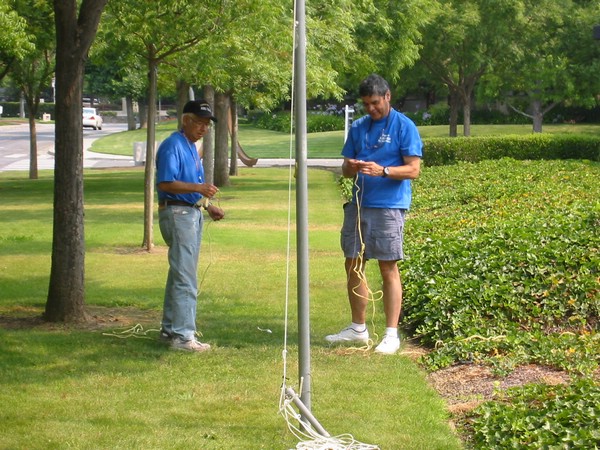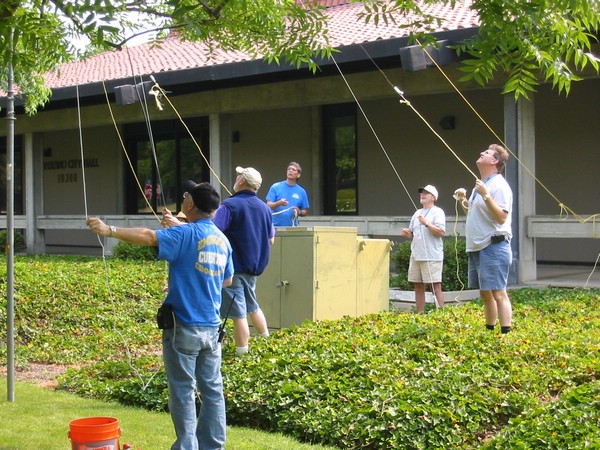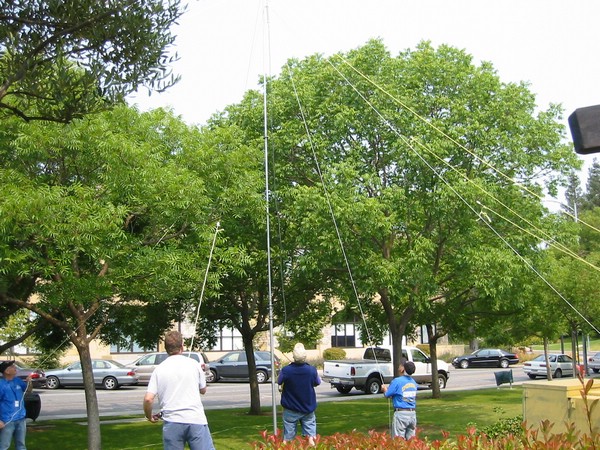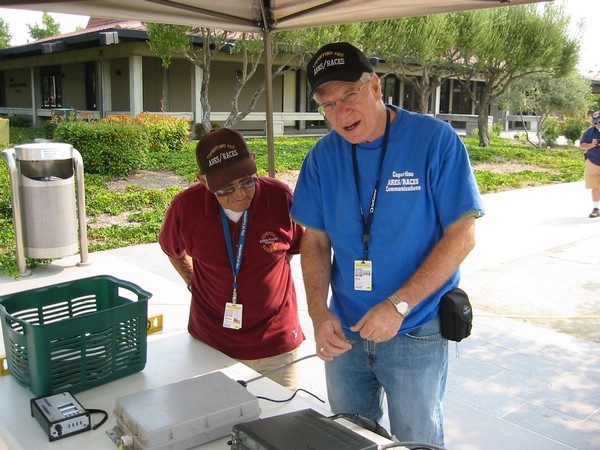 (1) Bill KD6TQJ and Allan KD6QPP get ready to raise the dipole. (2) The antenna- raising team attempts to keep the antenna out of the leaves. (3) Almost there...
(4) Vince K6TEN and Phil WA2KDX discuss the merits of a random wire with an automatic antenna tuner (AH-2 on the table).
Luckily Jim KN6PE and Kevin K6TD did a test setup of the ATV mast at Kevin's QTH the day before. Unlike the other masts, the plan for ATV was to use a Force 12 FT30-M 30ft mast (5 sections of 6-foot aluminum interlocking tubing). Kevin has the tilt-up base secured to a VERY LARGE piece of concrete so we knew this was not going anywhere. With Phil WA2KDX, Darryl KI6LDM, Paul KI6DRN, and Jim KN6PE, the sections were assembled, a test-raise was made to measure off and secure 2 of the 3 guy ropes, lowered, then the antennas were installed and raised.
The plan was to transmit ATV through the K6BEN ATV repeater located up in the East Bay hills, transmitting on 1.2GHz and simultaneously receiving on 440. This arrangement -- receive while transmitting -- allowed us to see our picture and do some fine tuning of the antenna direction as necessary.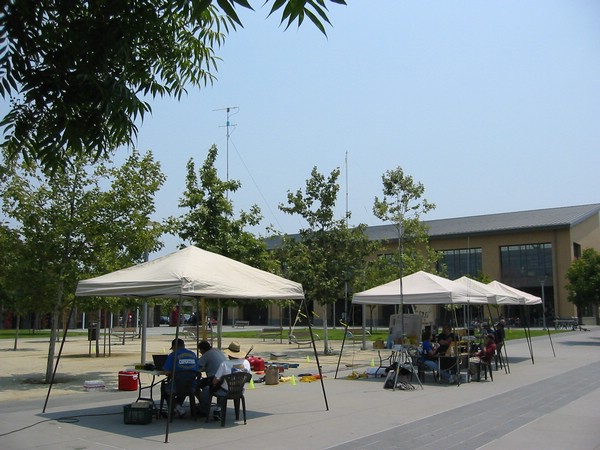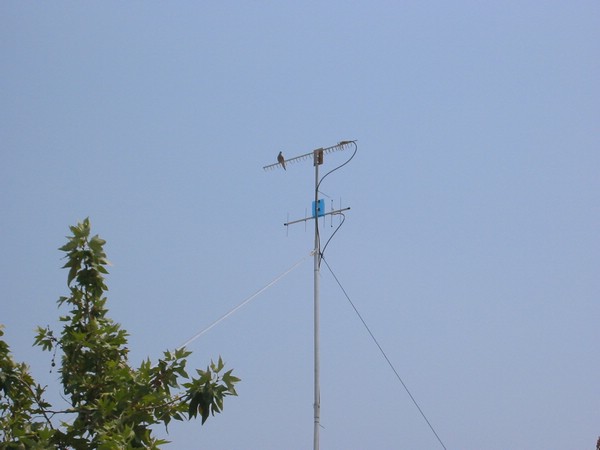 (1) The ATV antenna in the upper left; the 1st dipole off to the right. (2) A closer view of the ATV antenna system with an uninvited guest. That's a 1.2GHz loop Yagi with the 440 Yagi below it.
CQ Field Day, this is K6KP, 2F, Santa Clara Valley
The site was ready to go a couple of minutes before 11:00am. Kevin K6TD lead the group in a review of the ground-rules, public relations, and plan for managing the interference between the 2 HF stations.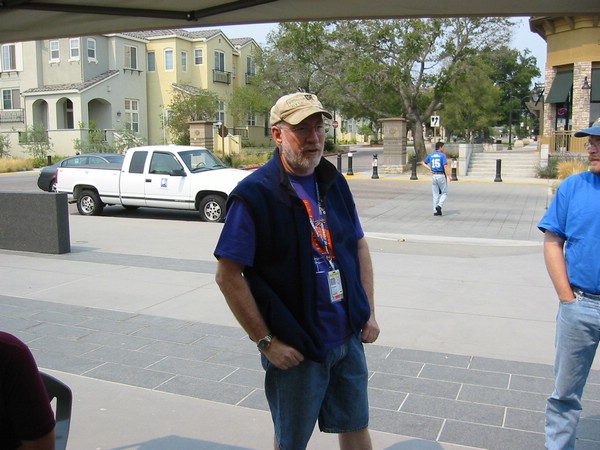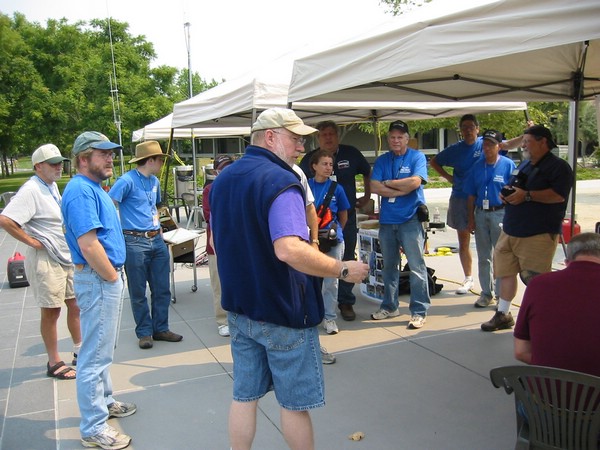 (1) Kevin K6TD during the event briefing with... (2) the Field Day crew listening in.
The site actually came together with relatively ease and everyone settled into operations.
HF Station #1. Mark AF6IQ and Chris KG6YKN started HF operations using PSK31 on 15 meters. Mark was using PSK31 Deluxe and was happy with the software's performance. However, there wasn't much action on 15 meters. Later during the day, he switched to 20 meters and the contact rate picked up dramatically!
HF Station #2. Tom N3ZZ and Phil WA2KDX staffed the 2nd HF station and started on 20 meters looking for CW and voice contacts. Fari later took a turn on HF (first time on HF) and was excited to make contacts with stations in British Columbia and Hawaii... do we have a future General in the making? Her voice was a "come-back" magnet on HF!
We had the honor of using the HF gear of Greg Harrison WD6EHB a member and Silent Key. His wife donated his HF station -- IC-735, P/S, and AH-2 tuner -- to CARES and we were anxious to give it a try. The equipment worked well and we confirmed its operational status. CARES needs to develop the plan for incorporating it into our deployment plan.
VHF Station. Vince K6TEN brought the CARES Net Control "box" up from the EOC Radio Room for VHF contact service. Mark K6FJC and Fari KG6UVS staffed the VHF station and picked up all of the 2 meter FM stations in the immediate area.
The nice thing about VHF and Field Day is that, once you run everyone you can hear, you are essentially done! Now, it's waiting for the late comers to show up and log them as well!
ATV Station. Working with Ben W2NYC, the K6BEN ATV Repeater owner and operator, Jim KN6PE concluded he had a TV monitor problem. After pulling another TV set from home, we were able to watch the transmission from the San Jose Field Day site as broadcasted by Michael K6MFW. We even saw Michael interview San Jose Mayor Chuck Reed. When it was our turn for transmitting, everyone was thrilled with the excellent signal we were putting out with only 2 watts! Kevin's 30 ft mast made all the difference!

Michael K6MFW traveled around to other Field Day sites and we exchanged ATV images as he progressed. At the San Jose site, here's what our transmission looked like; we are talking to the visiting Boy Scout Troup.
Packet. We sent our Field Day greetings to Bill N2RHV, our Santa Clara Valley Section Manager by NTS packet.
Official Visits. Kevin extended invitations to all members of the Cupertino City Council as well as to our primary served agency.

Chris AF6IQ, left, shakes hands with Orrin Mahoney, Cupertino City Council member. Kevin K6TD (left center) and Bill KD6TQJ (right) look on.
Marsha Hovey KG6CYV, City of Cupertino OES Director also stopped by and showed off some new emergency response tools. The City of Cupertino is CARES' primary served agency and CARES' primary supporter.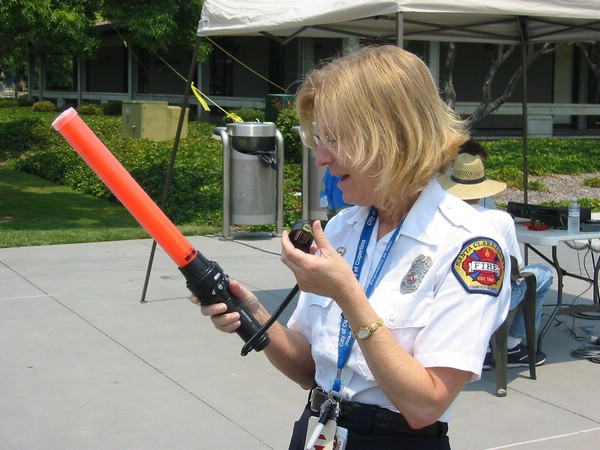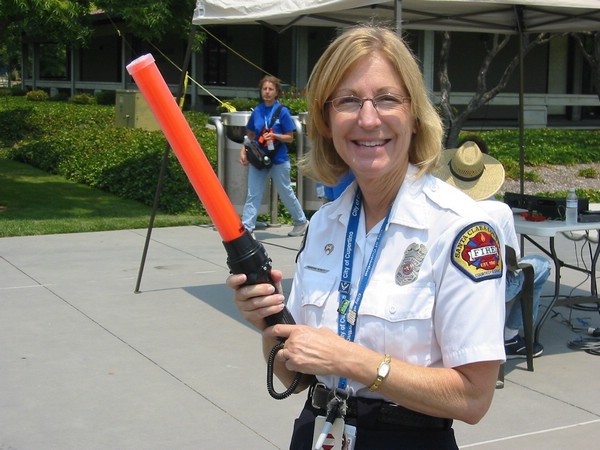 What's field day without new Emergency Response equipment to check out?! Marsha shows off the "Light Saber"... a combination light wand with strobe, bull-horn, and build-in electronic whistle!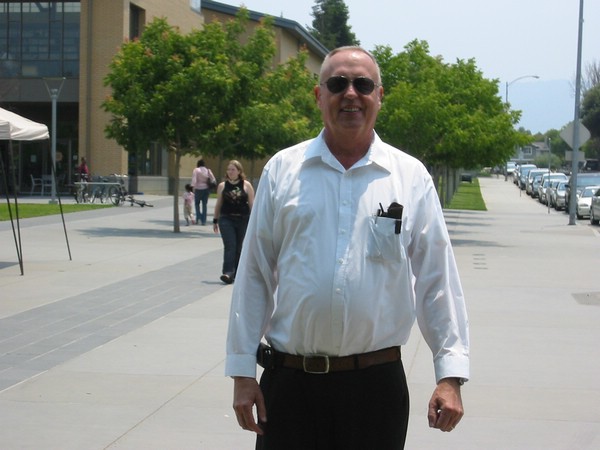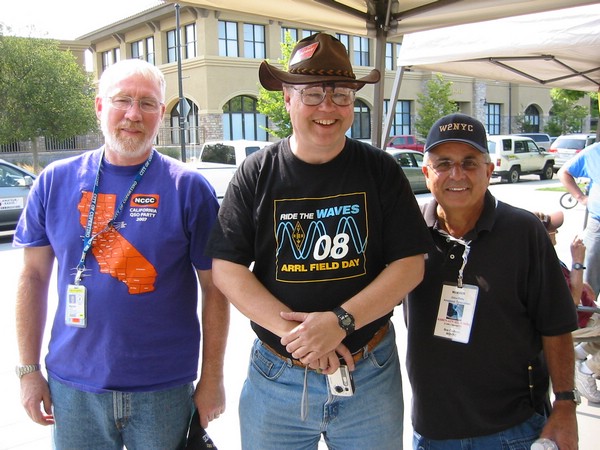 (1) Larry Carr KE6AGJ, Santa Clara County District Emergency Coordinator stops by to check out the action. (2) Bill Dale N2RHV (center), our Santa Clara Valley Section Manager, visits the CARES Field Day Site and is flanked by Kevin K6TD (left) and Ben W2NYC (right).
Public Outreach. We had over 30 visitors from the community stop by (they really could not miss us!) with plenty of interest about what we were doing and ham radio in general. Along with some locally developed material, we distributed a very nice pamphlet about Ham Radio and emergency preparedness written and printed by Santa Clara County OES.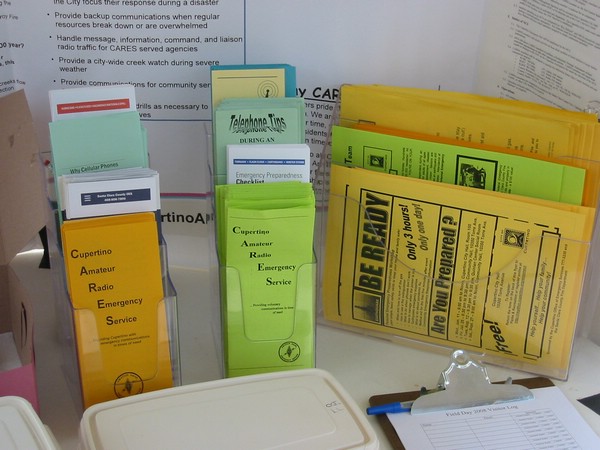 (1) Mark K6FJC staffs the Information booth. (2) Some of the material available for pick-up.
Heard it around the site
Vince K6TEN: "...we learn something new every time we hold this event!"
Kevin K6TD: "... the exposure to the public was great!"
Mark K6FJC: "... excited to see so many people working to get Field Day up and running!... very happy with the solar-based contacts!"
Kevin K6TD, Tom N3ZZ: field day was not even over and they were discussing "... California QSO Party - first weekend in October".
Mark AF6IQ: "... most fun I had all week! While 15 meters was dead for PSK31, 20 meters was wide open with plenty of contacts to pounce on."
See some of the pictures here and even more pictures here.
Enough fun for one day!
By 4:45pm, we made our last contact and pulled the plug on the CARES 2008 Field Day operations and, by 5:45pm, the site was cleaned up and we were driving away.
Based on a quick survey of the members, many felt it was an excellent day. Kevin K7TD reported that CARES logged 95 QSOs from all over North America... not bad for a couple of hours on the air at the bottom of the sun spot cycle! We had a boy scout troop come through that spent some "quality time" at the different operating positions and got a good understanding of what Amateur Radio is all about. Those CARES members that wanted to, got to operate HF, many for the first time. And, it looked like everyone had fun!
Thanks to everyone who participated in this year's Field Day. And a special thank you to Kevin K6TD for organizing an excellent event!
Same time next year? Mark your calendar... 27 June 2009!