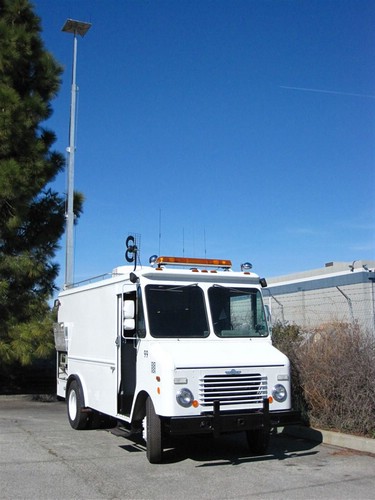 Cupertino OES Van Project
Last update: March 06, 2012
---
Photo-history
---
History Narrative
6 March 2012. We have almost completed the technical acceptance test on the van. The focus of this 3 week test effort was on the work performed by Telepath. With a limited punch list of items to complete, the desire is to get the vehicle back in town by 16-March, outfitted, and commissioned in time for our May Drill. Check out these pictures from Phil when the van was rolled out for testing.
28 October 2011. Here are the pictures of what it looks like as of today. Note the switch panel above the engine mount in the cab. Most DC circuits are operational.
17 October 2011. Initially installed the HF antenna as a "bumper" mount location (1st 3 pictures). HRO confirmed that this will be unacceptable given the van will block the bulk of the radiation. Telepath moved it a lot higher and should provide a good radiation pattern (4th picture). The battery charger is in and more progress on the cabinets. Note the dash switch panel (last 2 pics). This will go above the engine mount in the cab.
10 October 2011. Shots of the drivers area and the current switch configuration (left and right of the steering wheel. Roof antennas are in place (4th and 5th pictures), and the interior cabinets are in progress.
6 September 2011. The City Service Center has contracted with Telepath Corporation to perform the build-out of the van. A kick-off session was held with Telepath today and the vehicle was turned over to them for the build. The van interior floor was Rhino-lined prior to turning it over to Telepath.
1 September 2011. Here is a summary of what we reviewed at the September CARES meeting.
28 April 2011. The City decided to start the communications van project to be used as an alternate EOC Radio Room. This was to address two problems: (i) Address CARES TAC-1 subject to intermod problem and the cost to resolve it, and (ii) prepare for a future City Hall upgrade (no date). The first round of vehicle upgrades were performed on the van including gutting the van, mechanical checkout, diamond plating to roof, and a new paint job to name a few. See the pictures after this initial work.
4 April 2006. Cupertino OES received a donation from the San Jose State University Police Department of their old Police Command Post Van. Check out the photo album for a walk-around tour of how we received it.
The vehicle is a 20 ft box van built in 1983 with about 73,000 miles on it. Before we took position of it, the van was driven only 80 miles the entire year. Initial reports from the City of Cupertino Maintenance Yard were that it drives pretty well.
---
General Feedback
Please send any feedback to
updated: March 06, 2012