Cupertino ARES Field Day 2000 Home Page!
updated: July 13, 2000
2000 Field Day Team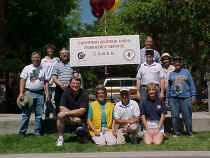 From left to right, front to back: Richard KE6RJY, Eileen KF6PUT, Ken KR6CO, Al K6AB, , Marie KE6RAZ, Bill KD6TQJ, Bill KF6MCG, Jim KN6PE, Marsha TBA, Janet KF6PUQ, Vince K6TEN. Missing from Photo: Kathy KF6PUR, Pervez VU2VIP, Brian KE6ZOY.

What a day!
CARES completed its second annual Emergency Communications Station Drill, also known as Field Day, and had a great time. We met all four of our objectives: (1) establish a variety of stations, (2) originate radio traffic, (3) give CARES members HF operations experience, and (4) develop the list of improvements for the next event.
We had 14 CARES members participate spending a total of 92 volunteer hours to help set up, operate, and tear down our site. We operated with a 2A designation under the FCC call sign K6AB. This is Al's (ex K6VYI) very new and catchy call sign. Here's some of the highlights of the day.
Same time, place next year?
Ken KR6CO took the lead for this year's event and identified the Torre Avenue common area between City Hall and the Library as our operating position. This location was ideal for us last year and was the clear choice for this year's event because of its ability to serve multiple purposes:
A public area that would support interaction with the community
City flag poles made excellent antenna supports last year
In-place picnic tables and benches as operating positions
Street side parking made setup and tear down easy
Plenty of trees for shade
Close proximity to the Library for "bio-breaks"
The plan was to put two HF stations, packet, and if possible, a VHF/UHF station on the air. Station Captains and co-Captains were:

HF #1
Al K6AB
HF #2
Jim KN6PE
Janet KF6PUQ
Packet
Bill KF6MCG
Additionally, Ken decided we should "go for the points" and submit our score. See our results below.
Logistics -- Putting it all together
Set-up started promptly at 9:00 a.m. Here's a run-down on our activities:
Power: Richard KE6RJY supplied all power from a 25 kW trailer-mounted generator... it worked great!
Shelters: Al K6AB borrowed two pop-up shelters from the City's Department of Parts and Recreations. These were excellent structures and, like last year, were invaluable as sun shelters throughout the day.
Antennas: We used the City's flag poles again for our HF antenna supports. Jim KN6PE first attempted to use his G5RV-jr. One end was secured to one pole and was aligned north to south with the other end going over a tree. This antenna was ultimately replaced with Skip's WA6VFD fanned dipole due to high SWR. Al K6AB supplied the second HD antenna with the flag pole as one anchor and the City Hall building as the other end. A good working agreement between both stations as to what bands to use, when, kept them from clobbering each other.
Radios: Al K6AB brought his ICOM 7xx and Jim KN6PE brought his ICOM-725. These two stations assured us HF coverage and our 2A designation. Bill KF6MCG supplied a portable packet station that was later augmented with an external antenna and higher wattage radio.
Public Relations: Marie KE6RAZ brought her travel trailer along and this formed the headquarters for our Public Relations booth. We had posters, fliers, and, and goodies to entice those who passed by to stop and chat.

Operations -- Having some fun!
With set-up complete by 11:00 a.m., let the games begin! Everyone got into the act one way or another! Here's what we all did.
Al K6AB: HF Station #1 Captain. Besides providing all of station #1, Al offered up his FCC call sign as the event call and we operated as K6AB. Al was also one of the main operators on HF during the event.
Ken KR6CO: Event chairman. Ken ensured that all HF operations were well coordinated and positions staffed. Ken also provided two PCs for logging and, using the NA logging software, had these machines serial-linked together where we could manage dup's effectively. If you haven't seen this program, check it out!
Bill KF6MCG: Packet Station Captain. Besides helping with setup, Bill supplied the entire Packet station -- PC, TNC, and HT -- for the event. Bill also ensured we made at least one packet contact and originated an NTS message to Glenn WB6W, Section Manager, Santa Clara Valley Section, ARRL Pacific Division. Bill also made some contacts operating VHF FM using the same radio.
Jim KN6PE: HF Station #2 Captain. Jim provided most of HF Station #2 and helped with setup. Once the event began, he also helped with packet operations.
Janet KF6PUQ: HF Station #2 co-Captain. After assisting with getting it on the air, Janet was involved in operating and logging. In fact, she turned out to be an expert logger!
Kathy KF6PUR: Kathy helped set up, then staffed the public relations information booth for the event. She also provided some goodies for those who stopped by.
Eileen KF6PUT: After helping with the Public Relations setup, Eileen did have a chance to operate on HF. Field Day is a terrific event to get introduced to "assertive operations" which has big benefits during emergencies. Eileen definitely demonstrated this as she became more comfortable with the operations, then became the pursuer of several stations heard on the air. Great job, Eileen!
Marie KE6RAZ: Information Booth Captain. Marie ensured the public relations activity was set up and staffed. Using her travel trailer as a backdrop, Marie setup the information booth, supplied some goodies, and kept it staffed throughout the day.
Marsha Garcia: Event Photographer. Marsha also helped set up the public relations information booth and was the event's official photographer (see the Field Day 2000 Photo Album). As Marie's successor, Marsha is also planning on getting her Amateur Radio license. However, this didn't stop her from getting on HF and making about 5 contacts. Marsha, welcome to Ham Radio!


Richard KE6RJY: Richard contributed the generator. 25 kW was more than adequate for our needs and kept us humming up until the end. Richard also took turns at HF operations throughout the day.
Vince K6TEN: Vince helped with setup by supplying antenna cabling and making sure all antennas were operational and would load on the HF bands. This was critical since the G5RV-jr had an unacceptable SWR level across the bands. Vince brought in Skip's fanned dipole as the substitute antenna.
Bill KD6TQJ: Bill helped with setup and was instrumental getting our antennas in the air. Stringing antennas between flagpoles and "other" structures requires plenty of teamwork. Bill's ensured we had antennas in the air that were going to stay there!
Pervez VU2VIP: Pervez was one of the main operators on HF and accounted for over 40% of the HF contacts. He obviously had a good time and was enjoying HF operations. Same time next year, Pervez?
Brian KE6ZOY: Because of other commitments, Brian stopped by in the afternoon to offer morale support.

Results -- Who's keeping score?!
After meeting the main objectives for an Emergency Communications Station Drill, we were going for the points. Watch for our entry under K6AB in a future edition of QST. Here's how we did!
Rule #
Category
Contacts
Multiplier
Total
7.1
QSO POINTS
HF Phone Contacts
96
1
96
VHF Phone Contacts
13
1
13
Digital Contacts
5
2
10
7.1
Total Contacts
119
7.2
Total Score w/Pwr Multiplier (<150W)
2
238
7.3
BONUS POINTS
7.3.1
100% emergency Power:
2 xcvrs
100
200
7.3.2
Media Publicity:
100
7.3.3
Setup in a public place:
100
7.3.4
Public Information Table:
100
7.3.5
Message Origination:
100
TOTAL
838
For pictures of Field Day 2000 click here.